Adolescent ACL Reconstruction With the Pathfinder™ Hybrid Transtibial Technique

For athletes with skeletal growth remaining, a torn ACL presents unique challenges. ACL reconstruction is typically considered the preferred treatment, though conventional surgical options for femoral tunnel positioning have historically had to prioritize either aperture position or the avoidance of physeal injury, but not both.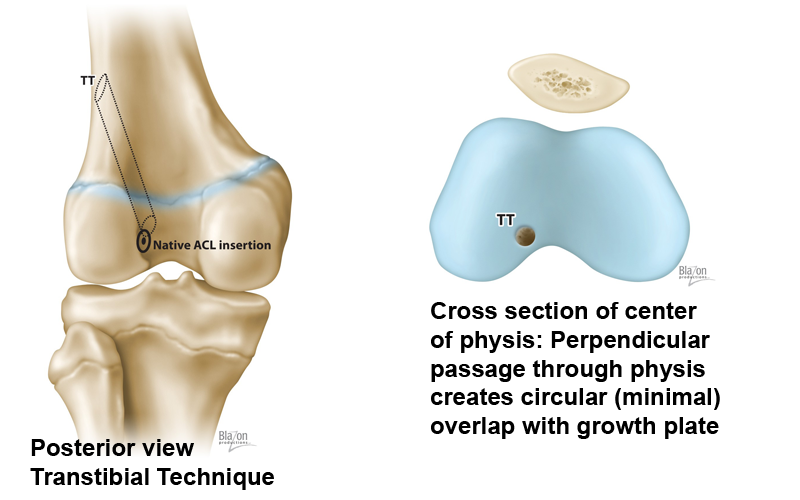 Transtibial Technique (TT)
The common Transtibial Technique reduces risk of femoral physeal injury by creating vertical tunnels that minimize physeal injury, particularly when used with a soft-tissue graft.
Unfortunately, a transtibial technique is unable to consistently achieve anatomic femoral apertures without significant compromises in length and obliquity of the tibial tunnel (Piasecki AJSM 2013) and typically achieves <50% overlap of the native femoral insertion (Jennings et al OJSM 2018, Trofa et al AJSM 2020). In a population already prone to high failure rates with soft tissue grafts, tunnel malposition in this manner may predispose to poor outcomes.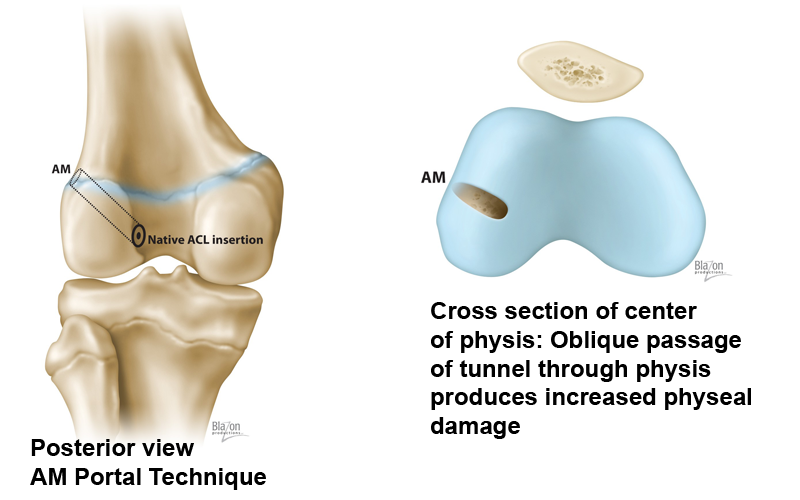 AM Portal Technique (AMP)
By contrast, physeal sparing techniques – the most common being the AM Portal or transepiphseal retroreaming techniques – allow improved access to the femoral insertion, but substantially increase graft/tunnel obliquity (Jennings et al OJSM 2018, Trofa et al AJSM 2020). This obliquity subjects the graft to increased strain (Takayashi et al AJSM 2017), and has the undesirable increased risk of significant shear injury to the physis if tunnels deviate only slightly from their desired course (Riboh et al Arthroscopy Techniques 2020).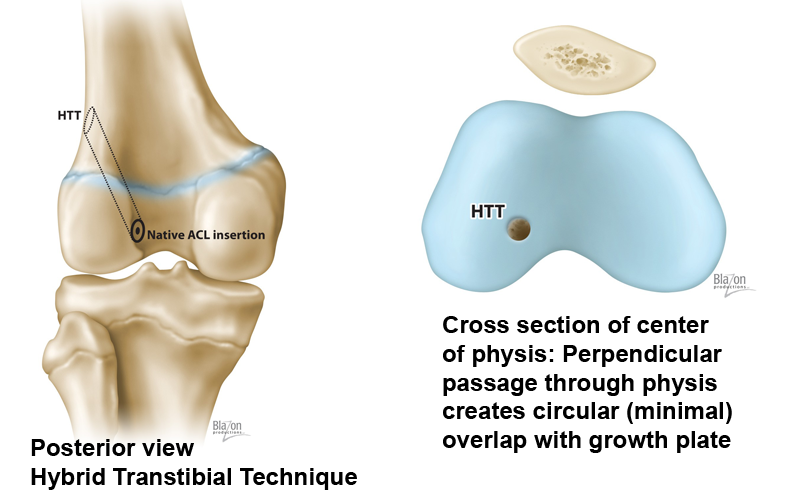 Hybrid Transtibial Technique (HTT)
The novel Hybrid Transtibial Technique using the Pathfinder ACL System produces the best of both worlds for skeletally immature patients, by allowing anatomic femoral tunnel aperture positioning but with femoral tunnel angular orientation comparable to a traditional transtibial technique. The result is the ideal combination of both anatomic aperture position and minimal physeal overlap.
Transphyseal Anterior Cruciate Ligament Reconstruction Using Hybrid Transtibial Femoral Drilling and a Quadriceps Tendon Autograft. Tyler Robert Johnston MD, Jessica Hu, BS, Bonnie Gregory, MD, Jordan Liles, MD, Jonathan Riboh, MD. Duke University Medical Center. © 2020 Arthroscopy Association of North America. Published by Elsevier.